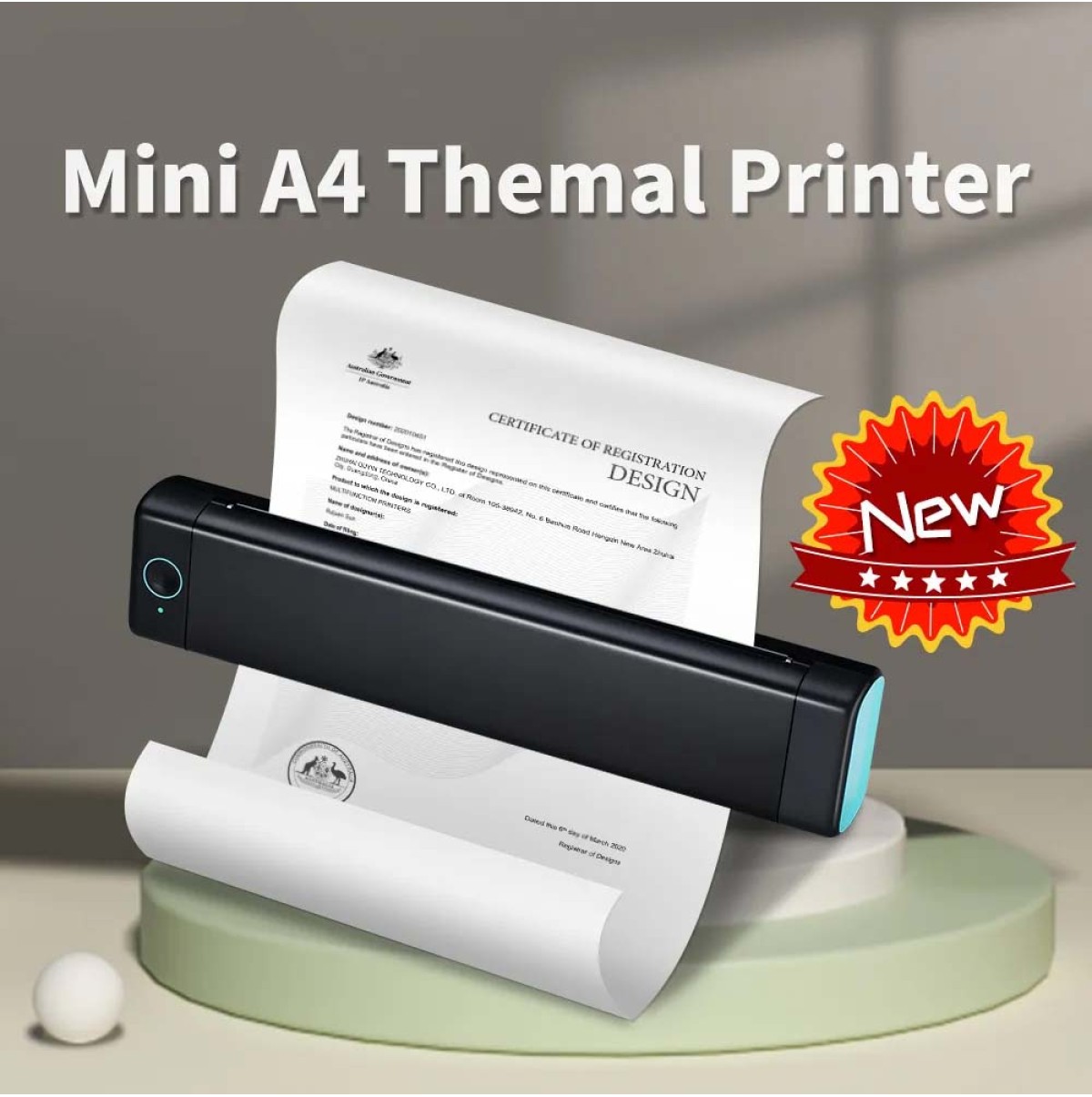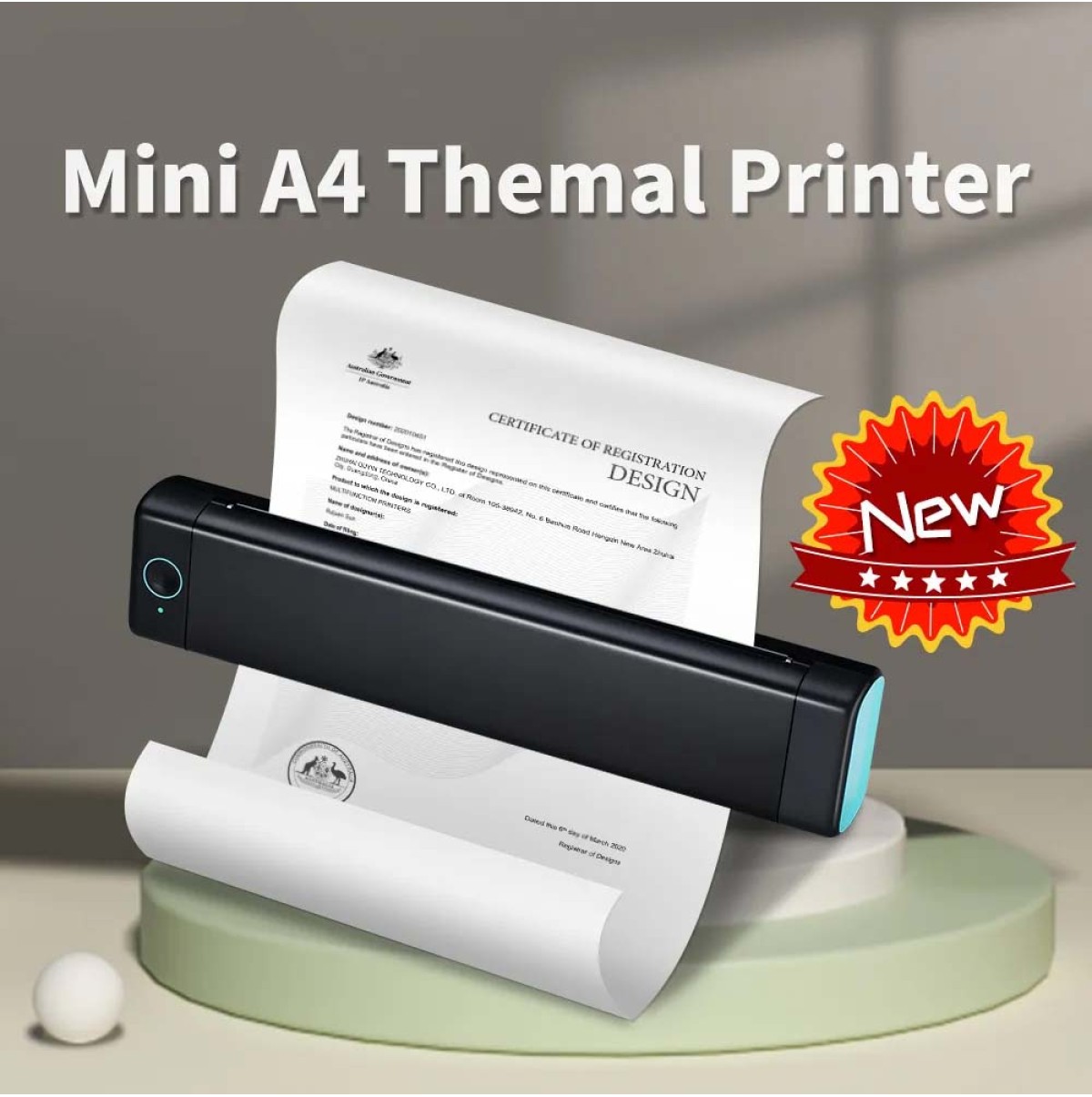 M08F A4 Portable Thermal Printer
---
---
Ready to ship in 1-3 business days
M08F A4 Portable Thermal Printer Androf
【Product Description】
Portable Printer

- M08F is a Mobile Printer compact and portable, 80% smaller in size and weight than traditional printers, effortless to hold with one hand. The thermal printer is suitable for any scenarios that require mobile printing in business/travel/car/office/school. For example, print invoices, contracts, lists and exam documents contracts on site.




Leading Portable Printing Technology

- M08F travel printer adopts thermal printing technology, which no longer needs ink, toner and ribbon, only needs A4 thermal paper, Easy printing wherever you need it. (Recommended to buy Phomemo original thermal paper together for clearer printing, not compatible with plain paper)




High Compatibility

- Not only M08F portable printers wireless for travel supports IOS, and Android mobile phones by Bluetooth connection, but also support USB connection for MAC and Windows 7/8/10. (PC does not support Bluetooth connection, ONLY supports connection via USB cable, Drive website: www.m08f.phomemo.com)




Big Battery Capacity

- M08F wireless printer built in 1200mAh rechargeable battery. Can print 120 sheets of A4 thermal paper continuously. NOTE: A4 thermal paper is longer and narrower than US letter. The size is the international standard A4 size(8.27 x 11.6 inches).




What You Get

- To ensure high-quality portable printers are available to customers around the world, Phomemo M08F use the international standard A4 paper print size, and free 5 sheets of A4 thermal paper(different size from US Letter), U disk drive x1, USB Type-C x1, Storage Bag x1, Quick Start Guide x 1.


The Lightweight Portable Printer for Printing on the Go
M08F Mobile Printers weighs only 920g, built-in large capacity battery, high compatibility, you can take Phomemo M08F to any place where you need on-site service. For example, print invoices, exam documents, lists and contracts on site.
Windows 7/8/10 and Mac (requires driver installation, connect via USB cable) compatible, the printer also supports mobile phone (need to download "Phomemo" App, connect via Bluetooth), support Monochrome Printing web pages, PDF, Word, Txt, Images.


4 Reasons To Choose M08F Portable Printer


Superb Portability
Compare to traditional printers, M08F is so light and slim that you can carry them wherever you want. Always keep your print require is not be limited anywhere. (Size: 2.66"x12.2")


Inkless Printer Portable
Phomemo M08F has superior thermal printing technology without requiring ink, ink cartridges, or ribbons, printing only requires thermal paper, enabling printing anytime, anywhere.


Convenient Charging
Come with USB Type-C cable can connect to laptop/car/AC adapter to charge. Built-in high-capacity battery, one charge can print up to 120 pages in 2.5 hours.




M08F High Quality A4 Thermal Paper
Add Phomemo M08F Portable Printer and A4 thermal paper (8.26"x11.69") to the shopping cart and buy them together to make your print quality better and clearer.


Really Print From Anywhere


For RVing / road/camping / traveling job.




For truck driver prints on site




For business owner print invoices and contracts




For student print school work and notes.
Q1: Mobile phone print steps:
A: 1. Download the app "Phomemo" from apple store/google play
2. Open the app and top right select the M08F Series Printer
3.
Connect the Bluetooth via "Phomemo" app, not on the phone system
4. When install the paper, the side with the prompt should face up, put the paper in steadily with both hands.
5. You can open the Word/ PDF/ text in email or other APP and then share them to "Phomemo" APP for printing
Q2: Windows 7 & Mac OS 10.0.0 and above print steps
A: 1. Connect the printer to the PC via a USB cable
2. Log in to the official website to download the printer driver or use the attached U disk to install
[the latest driver version number: 1.0.2]
3. For detailed installation steps, please refer to the "Installation Video" / "Installation Getting Started Guide.PDF" on the product page
4. Put the paper flat into the paper inlet, it will automatically suck the paper
Q3: How do I get the latest installed drivers?
A: Enter phomemo official website
Support --> Download Center page --> select M08F--> select you OS and download
Version latest [1.0.2]
Q4: How to load the paper int the printer correctly
A: 1. Hold the paper by the sides and gently slide it into the printer
2. Keeping the edges of the paper aligned with the guides on each side of the paper input slot on the printer. Don't cant it - keep it straight
3. Don't force it in, but gently push it in about a 2" until the printer picks it up
Submit Your Review
Your email address will not be published. Required fields are marked *